Like Thanksgiving and the 4th of July, Memorial Day is a uniquely American holiday. Parades, back yard BBQs, and family reunions, we tend to think of this long weekend as the beginning of summer. And sure feels like it across much of the country this year.
So, what to drink on Memorial Day? It's a question I'm wresting with more than in years past.
On Friday evening I trudged down to the basement with domestic wines on my mind (drinking
French or Argentine wine just wouldn't feel right.) But as I surveyed my options, it hit me that what little US-produced wines are down there - a topic for another time - are wholly inappropriate for this weekend.
It's hot and humid in the Midwest. We'll be eating burgers, dogs, chicken, corn, potato salad, and other goodies done on the grill if we're lucky. That means sweet sauces, condiments, and lots of napkins. As it does in other seasons, the weather and the menu drive the wine choice. Which leads to a bit of a challenge when using the criteria of a) only American wines, and b) crowd-pleasing (code for broadly appealing, but also less expensive.)
On the white side, chardonnay is the default, but they're just too rich and cloying for hot weather. Same goes for moscato, not that you'll find any of it in my hand. So, we're left with the not-too-shabby sauvignon blanc. Look for
Geyser Peak
. At $10, they've remained true to making this wine with crisp, refreshing flavors of Grannysmith apples and fresh-cut grass. Perfect quaffing for garden gatherings.
On the red front, zin, once the go-to drink for BBQ, has become just too overblown. Cab's too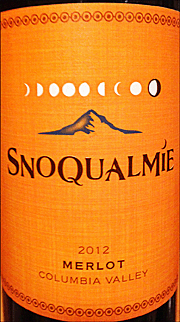 serious (and expensive), pinot's too syrupy anymore, and many of the new, trendy blends are as overblown and gloppy as zin has become. For the same reasons you don't want to drink and imperial IPA in the hot sun, you want to avoid these high brix/high ABV wines. What does that leave us? Two options: syrah and merlot. Syrah is too tricky to find consistently, so my #1 recommendation is a Columbia Valley merlot.
Snoqualmie
makes one for $9 that is plump enough to stand up to grilled fare, and which novices and snobs alike will appreciate.
Whatever you're drinking, perhaps you'll find a moment of remembrance somewhere along the way for the generous men and women for whom this holiday was intended to honor. Without them, so many of our freedoms would live only in our imagination. Including the luxury of wine writing.
Happy Memorial Day. Please have a safe and relaxing weekend.